Community Events
Orthopedic Educational Seminar: Mako™ Robotic-Arm Assisted
.7) July 11, 2017 to July 11, 2017 - 6:00p.m. to 8:30p.m.
Event Information
Cost:
Location: Fleming's Prime Steakhouse & Wine Bar (Napa Room)
Address: 905 North 54th Street, Chandler, AZ, 85226
Description
Join Dr. Steven Myerthall, with The CORE Institute, as he answers your questions and explains the new surgical procedures that are transforming orthopedic medicine with robotics for joint replacement.
The Mako™ robotic-arm assisted surgery system entered the marketplace in 2014 for total hip replacement and partial knee replacement. We are excited the Mako™ technology has expanded the use now for total knee replacements. This technology will revolutionize the way in which we care for knee arthritis with total knee replacements.
---
About the Speaker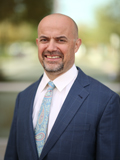 Steven L. Myerthall, MD is an internationally fellowship-trained and board certified specialist of the hip and knee reconstruction. His practice incorporates many of the newest techniques and technologies available for total joint replacement surgery. Dr. Myerthall was the first surgeon in Arizona to utilize this new advancement in robotic-assisted surgery.
Dr. Myerthall completed his fellowship training in hip and knee replacement surgery at Mount Sinai Hospital in Toronto, Ontario. Prior to that, he completed his orthopedic residency at the University of Toronto, where he received the prestigious Sopman Humanitarian Award in 1996. Dr. Myerthall obtained his medical degree, and two bachelor's degrees at the University of British Columbia in Vancouver, British Columbia, Canada.
Dr. Myerthall has also been active in academic medicine, having lectured on a variety of topics to community groups, orthopedic associations, and at local and regional academic symposiums. He is a candidate member of the American Academy of Orthopaedic Surgeons (AAOS) and a fellow of the Royal College of Surgeons of Canada (RCPSC).
Dr. Myerthall has received the distinction of Best Doctors in America from 2009 to 2010 and received the 2010 PHOENIX Magazine's Top Doctors distinction for Orthopedic Surgery.
CME/CEU Information
Contact through website.